You may think that you can't afford to hire a bookkeeper from an accounting firm. However, the advantages have significant benefits to your organization, and you will save $$. Focus on the advantages and savings you will receive from an Outsourced Bookkeeping Firm as provided below:
Save time with an aid of a qualified and experienced bookkeeper.
As a business owner, your time focus should be on earnings, cash flow and provide an efficient and competitive product, instead of accounting paperwork and payroll as an example eating into your valuable records incorrectly providing inaccurate information to the ATO. Managing multiple deadlines is near impossibility and invariability you let slip the accounting/bookkeeping work as this is not a priority for you because of some other important task.
Most small business thinks that by doing the work themselves will save them money. Unfortunately, when you proceed down this path, you have stopped earning $$. You are the best salesperson in your organization and should continue to use your time in this direction.
By outsourcing bookkeeping services, you will be ensured you are up to date with your accounting records be it weekly, monthly, quarterly and ensure you comply with the current regulation and avoid penalties for late lodgment.
Save more money with Outsourced Bookkeeping Firm
As an example, we have provided the average cost of employing a bookkeeper full time or part time as well as identified the savings you will achieve using a Pacific Accounting Solutions.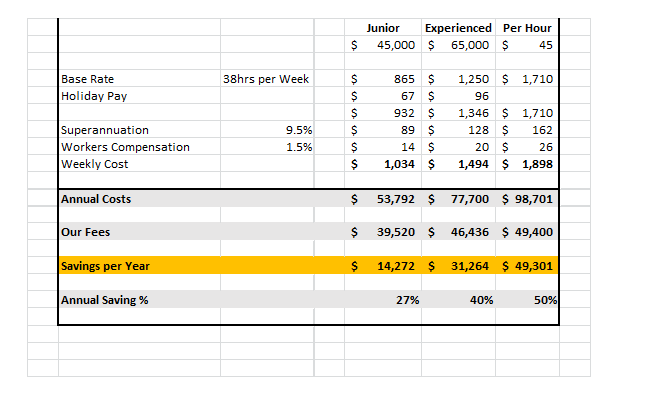 You can focus on growing your business
Aside from keeping your accounting records up to date and lodging your BAS return on time. Accountant and bookkeeper can be a good source of financial advice. Firstly, they will learn to understand your business inside and out, when your payroll is due and or your monthly or quarterly returns, there will not be any surprises. And by having the financial knowledge plus the expertise in dealing with finances, they can surely help you with financial management. Taking the right moves towards managerial and financial decisions is vital in making your business grow.
Does affordability still matter when you are saving money and have the time to focus on what is important in your business?